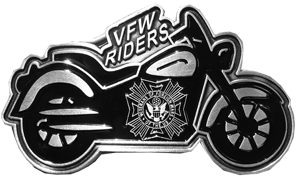 Revision Date: 5/31/2023
NOTE
: Text highlighted in
RED
are Links.
Click here for:
MICHIGAN VFW RIDERS STATEMENT OF POLICY
NATIONAL VFW RIDERS STATEMENT OF POLICY
VFW District 4 Riders Support Services:
On Wednesday, June 7, a new support opportunity for veterans, first responders, and their immediate families was launched at Post 9885, "BOVA." There were multiple veterans representing different eras, law enforcement officers, and EMS in attendance. All that participated considered it a huge success.
The military branches have a history of friendly rivalry. First responders have the same. We mock and make fun of each other, but when the time comes to stand up, we are "one"! Both military and first responders have dealt with, or are currently dealing with, scenarios that would shake most of the general population to their core. Our families also often feel and deal with our struggles in various ways.
We are natural protectors. This is one reason why we all answered the call to "SERVE." Our protective nature sometimes makes it hard for us to share with others as we do not wish to cause them harm. Chaplain Rodney Gasaway offers a great example; when a firefighter came to a Bible study, one of the first things we did was to ask each other for prayers or lift up blessings based on what we had experienced that day. The firefighter had a very tough day involving a child abuse case. He shared a small part of his experience that day with the study group. After that night, he never returned, and some of the group required secondary trauma therapy over the next three weeks. The firefighter could tell what he shared with the group caused them trauma. Where is he supposed to go to lighten his burdens? Right here is a good start. All VFW members are welcome.
VFW Post 9885 "BOVA", 6440 N. Hix Road, Westland MI. 48185
The next meeting will be held on Wednesday, June 21, 2013, at 6:30 pm in the outdoor pavilion. Child Care is provided by Post 9885 Auxiliary.
This time offers you the opportunity to listen, share, pray, and offer support to one another. It does not matter the reason you need to talk with someone. Chances are others here will have dealt with something similar to whatever is on your mind. What is said in this group stays in this group! We are not directly affiliated and do not report to any insurance, military, law enforcement, fire, or emergency response agencies. We are not a therapy group. This is just a group of volunteer veterans, first responders, and immediate family members coming together to support one another. We hope to see you there.
Rev. Rodney Gasaway
Chaplain
District 4 VFW Riders
Chelsea Area Fire Authority
---
The purpose of the VFW Riders is to support the VFW by promoting the public visibility of the VFW, its programs, and the VFW National Home through community service and participation in veteran service events through responsible motorcycling in our community. We will promote motorcycle riding and veteran's service with an active membership and provide a positive model for motorcyclists and veterans.
---
Develop and maintain a strong, active membership.
Promote the values of the VFW.
Promote vibrant service to our nation's veterans through VFW programs.
Promote a positive public image of the VFW and motorcyclists.
Promote the value of community service.
Promote and encourage motorcycle safety programs and awareness.
Develop an active and diversified list of activities designed to encourage maximum member participation and enjoyment of the VFW and the VFW Riders and in support of VFW Service Programs.
---
If your Post and or District would like more information about how to form a VFW Riders group, please contact me.
Tim Artibee
Director, VFW Riders
Dept of Michigan
Veterans of Foreign Wars
vfwriders@vfwmi.vet
MICHIGAN ESTABLISHED VFW RIDER GROUPS:
Click the web links below to learn more about these established VFW Rider Groups.
2.Grand Ledge VFW Post 3293 - VFW Riders - Established - May 29, 2019
5.Mt Pleasant VFW Post 3033 - VFW Riders - Established - February 2021
6.Harrison - Post 1075
7.Fowlerville - Post 6464
8.Lamberville - Post 9656
If your VFW Rider Group is not listed?
Please email me so I can add you to the list!
Tim Artibee
Director, VFW Riders
Dept of Michigan
Veterans of Foreign Wars
vfwriders@vfwmi.vet
Editor:
Gary DeMars - District 4 Riders Webmaster
gary@demars.me