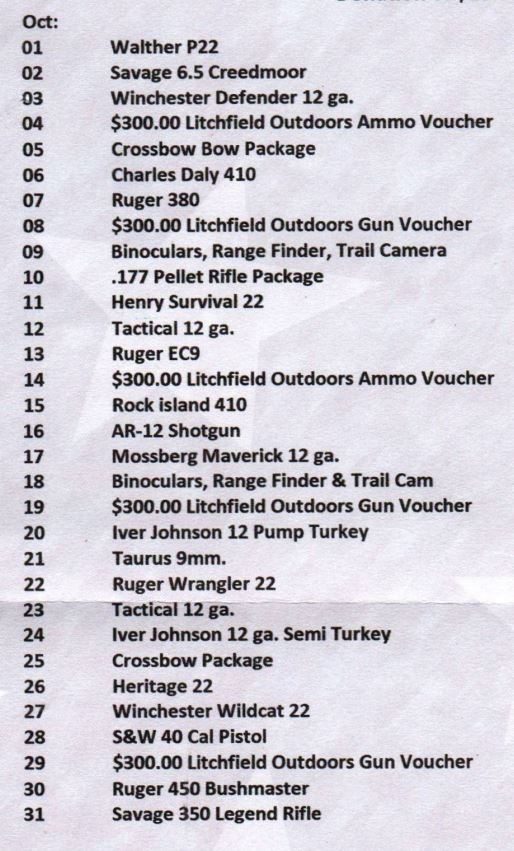 VFW Department of Michigan Auxiliary will raffle one gun per day during the month of October!
$25 per ticket, or 5 tickets for $100, ticket sales end September 20, 2023.
HOW TO PURCHASE
: Purchase tickets by contacting the department auxiliary office at 517-487-3715, turtlelee@hotmail.com, or contacting any department auxiliary line officer.
HOW IT WORKS
: The raffle will be based off the State of Michigan midday 3-digit lottery drawing, with the opportunity of a single ticket to win multiple times. If a raffle ticket number for the day has not been sold, then a drawing from the pool of ticket stubs for the tickets sold will take place at the Department Headquarters in Lansing. The daily drawing will take place between 1p.m. - 1:30pm beginning October 1.
Winning ticket holders must pass the NCIS background check. Failure to do so will mean forfeiture of the prize (weapons only). In the event that the manufacturer or dealers are not able to provide the specific prize, then the Department of Michigan VFW Auxiliary reserves the right to provide a reasonable like substitute prize. All tickets must have legible name and phone number.
Prizes can be picked up within 60 days at:
Litchfield Outdoors
123 Marshall St.
Litchfield, MI 49252
517-542-3663
Prizes won may be shipped to an FFL dealer nearest you